Five Turkish soldiers and three civilians have been killed by Syrian army shellfire in Syria's opposition-held province of Idlib, Turkey says.
Turkish Defence Minister Hulusi Akar said retaliatory fire "neutralised" 76 Syrian troops. But Syrian state media said there were no casualties.
Hundreds of thousands of people have fled a Syrian army offensive in Idlib, the opposition's last stronghold.
Many have moved towards the border with Turkey, which supports the opposition.
Turkey and Russia – an ally of Syrian President Bashar al-Assad – agreed a de-escalation deal for Idlib in 2017, but it has been repeatedly violated.
What does Turkey say?
Turkey's defence ministry said the soldiers killed by the Syrian shellfire had been sent to Idlib to prevent clashes between opposition and Russian-backed government forces, and that local authorities were aware of their position.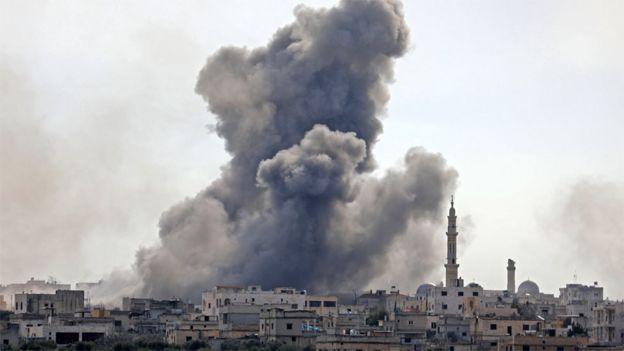 Mr Akar said Turkish forces had hit 54 targets in response to the attack and "neutralised" 76 Syrian soldiers – a term the Turkish military typically uses to describe combatants who have been killed, captured or wounded.
"We are determined to maintain the operations that we carry out to ensure the security of our country, our nation and of our brothers and sisters in Idlib," Turkish President Recep Tayyip Erdogan told reporters.
"Those who try to test Turkey's determination through such despicable attacks are severely mistaken."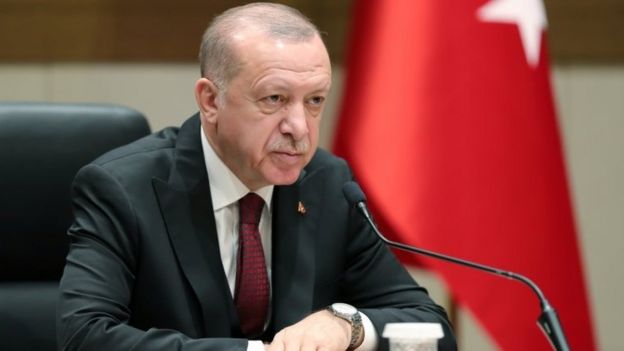 Mr Erdogan warned Russia to stay out of Ankara's dealings with Damascus over the shelling, telling Moscow "not to stand in our way".
On Friday, he threatened to use military force if the situation in Idlib was "not returned to normal quickly".
Turkey is already hosting 3.6 million Syrian refugees and says it would not be able to handle a fresh influx of displaced people.
How has Syria reacted?
There was no immediate response from the Syrian government, but the Sana state news agency reported that "no injuries or damage were reported" as a result of the Turkish retaliatory strikes.
It said Syrian army units were continuing "their operations in striking strongholds of terrorist organisations and defeating them from the villages and towns" in southern Idlib. Troops were advancing towards the town of Saraqeb after "liberating" Joubas and San, it added.
The Russian defence ministry said Turkish military units came under fire overnight near Saraqeb after they "made advances inside the Idlib de-escalation zone… without notifying the Russian side".
A spokesman for Turkey's ruling Justice and Development Party (AKP), Omer Cerlk, rejected the claim, saying: "Turkey gives regular and instant information to Russia. The information was given in this latest incident too."
The Syrian Observatory for Human Rights, a UK-based monitoring group, reported that the Turkish troops who died were based in the Turumba area, west Saraqeb.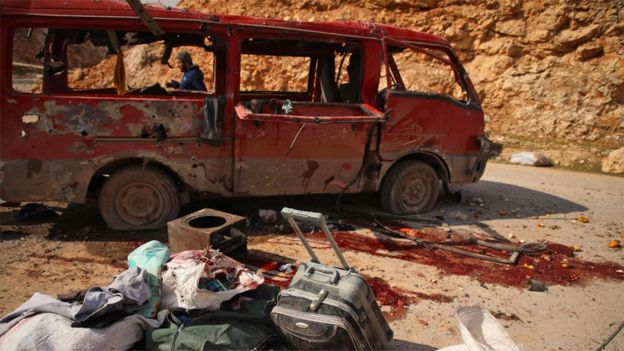 The Turkish retaliatory fire killed eight Syrian soldiers in Idlib, three in neighbouring Latakia province, and two in Hama province, it said. Twenty others were wounded in Aleppo province, it added.
The SOHR also reported that at least nine civilians were killed in an air strike on a vehicle carrying displaced people in Aleppo province on Monday.
Rescue workers from the Syria Civil Defence, who are known as the White Helmets, said the victims were members of the same family and that the strike was carried out by Russian warplanes.
Sixteen civilians, including five children and four women, were reportedly killed in Syrian government and Russian attacks on Sunday.