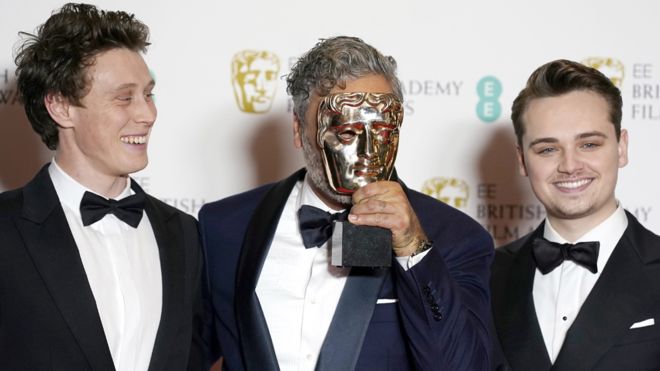 The 2020 Bafta Film Awards are taking place in London, with Joker, The Irishman and Once Upon A Time In Hollywood among the nominees.
Sir Sam Mendes' war film 1917 picked up five early prizes – outstanding British film, best sound, cinematography, visual effects and production design.
It's also tipped to win the top prize, best film.
Sir Sam's gritty drama has nine nominations in total.
"I couldn't be more thrilled," Sir Sam told BBC News backstage. "There's the personal delight in seeing a story very close to me and my family be developed and enlarged but the massive thing has been audiences going in large numbers.
"None of us knew if an audience would turn up, it wasn't certain at all. It's coincided with awards season and the fact this is still number one in the UK after four weeks, it's really alerted people to the fact the movie is on, it rarely happens like that."
Brad Pitt won best supporting actor for his role in Quentin Tarantino's Once Upon A Time… In Hollywood and made a Brexit joke in a message read out by his co-star Margot Robbie.
"Hey, Britain, hear you've become single – welcome to the club!" he joked.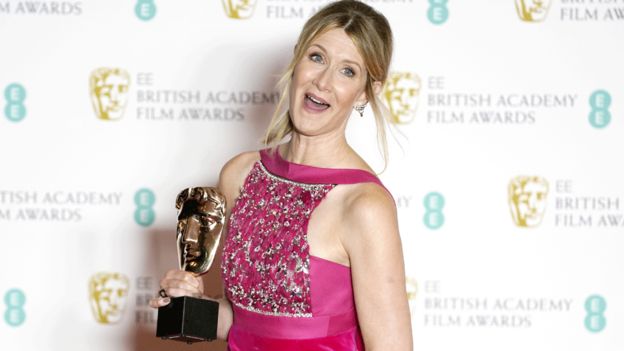 Laura Dern was named best supporting actress for her performance in Marriage Story.
She said: "When I was six, my mother received this very award in this category thanks to Mr Scorsese, and it was sitting on our piano, and my friend asked me, 'Ooh, what's that mask?' and I said, 'My mum told me that it's what friends give you to congratulate you, because you get to have the job you love.'
"Thank you Bafta, thank you for including me in this room of extraordinary artists as we get to tell stories and do the job we love."
Netflix's festive animation Klaus won best animation, beating big hitters like Toy Story 4 and Frozen 2.
Bombshell, which tells the story of the 2016 sexual harassment scandal at Fox News picked up best hair and make-up.
Overall, Joker has 11 nominations at the ceremony, while The Irishman and Once Upon A Time in Hollywood have 10 each.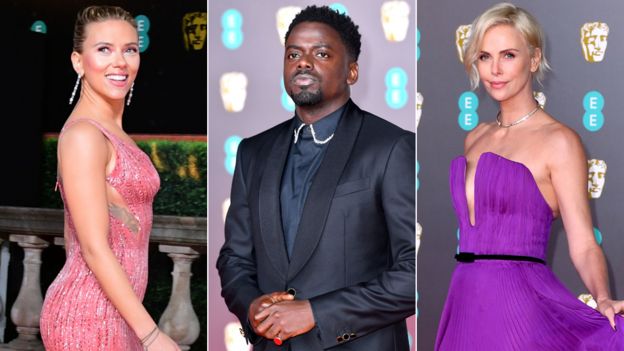 Joker picked up best original score early on in the evening for its composer Hildur Gudnadottir.
South Korean film Parasite, which is also expected to fare well at the Oscars next Sunday, picked up best original screenplay prize and best film not in the English language.
Best short animation went to Granddad Was A Romantic, while best costume went to Greta Gerwig's adaptation Little Women.
The award for best adapted screenplay went to Taika Waititi's Jojo Rabbit.
For Sama, a film about a young mother's experience of the Syrian civil war, won best documentary.
Syrian filmmaker Waad Al-Kateab took her four-year-old daughter Sama, for whom the film was made, with her on to the stage.
She told the audience in London's Royal Albert Hall: "I wanted to dedicate it to the great Syrian people who are still suffering today and the nurses, doctors and volunteers, I dedicate it to them, let them hear your voice."
Nominees on the Royal Albert Hall's red carpet included Saoirse Ronan, Charlize Theron, Taron Egerton, Adam Driver, Scarlett Johansson and Florence Pugh.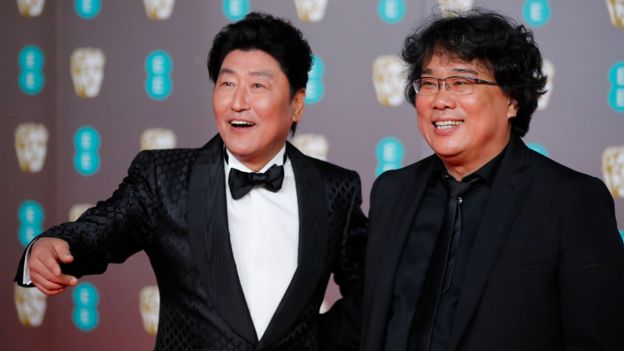 When the nominations were announced almost a month ago, they sparked a row over a lack of diversity.
All 20 acting nominees are white, and no female directors were nominated for the seventh year in a row.
That meant there was no room for black British star Cynthia Erivo – who went on to be nominated for an Oscar for her role in Harriet, a biopic about slave-turned-abolitionist Harriet Tubman.
She told Variety it was "disappointing" that more diverse films would not be represented at the Baftas.
At the time, Bafta boss Amanda Berry said she was "very disappointed" by the lack of diversity, and the organisation has pledged to conduct a "careful and detailed review" of its voting system.
Eyebrows were raised by the fact there was room to give Johansson and Robbie two acting nominations each.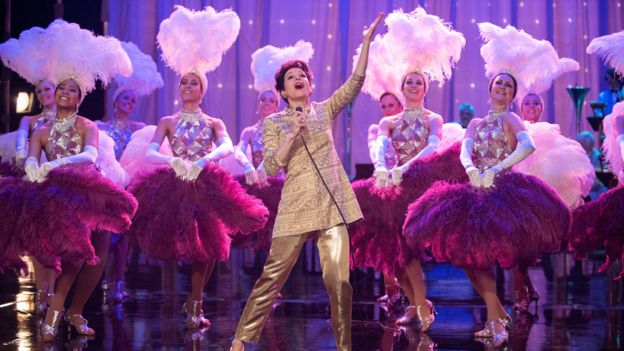 Robbie was up against herself in the best supporting actress category for roles in Bombshell and Once Upon A Time In Hollywood.
That category also included Johansson for Jojo Rabbit, and she is also up for best actress for her role opposite Driver in Netflix's divorce drama Marriage Story.
However, Zellweger is hot favourite to lift the best actress trophy for playing Judy Garland in Judy. The other nominees are Theron for Bombshell, Ronan for Little Women and Jessie Buckley for Wild Rose.
Phoenix is the tip to be best actor for playing the title role in Joker. He's up against Taron Egerton, who played Sir Elton John in Rocketman, as well as Leonardo DiCaprio for Once Upon A Time…, Driver for Marriage Story and Jonathan Pryce for The Two Popes.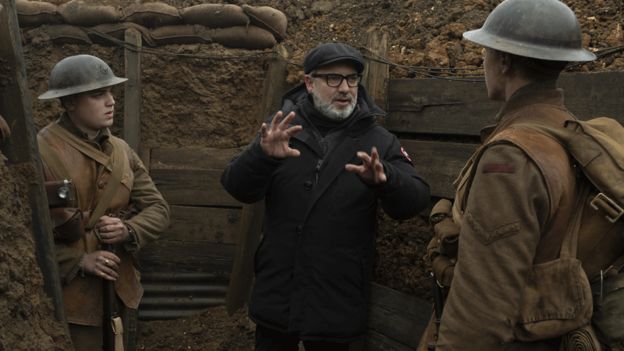 While it may not scoop the acting awards, 1917 – inspired by a story told by Sir Sam's grandfather – could take the greatest slice of glory on the night, especially if Mendes wins best director, as is widely expected, as well as best film.
However, whichever movie wins the top prize, its success might not necessarily bode well for next week's Oscars. For the past five years, the Bafta best film winner has not gone on to win best picture at the Academy Awards.
The Bafta ceremony is being hosted by Graham Norton for the first time, and will be broadcast on BBC One from 21:00 GMT.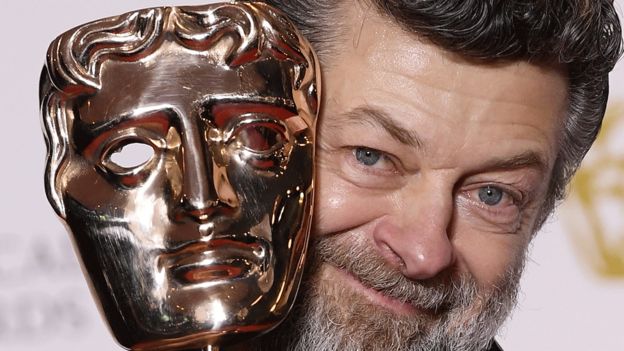 Bafta winners and nominees in most categories are voted for by 6,700 academy members, who are industry professionals and creatives around the world.
This year has also seen the introduction of a category for best casting director following a campaign last year to recognise that arm of the film industry.