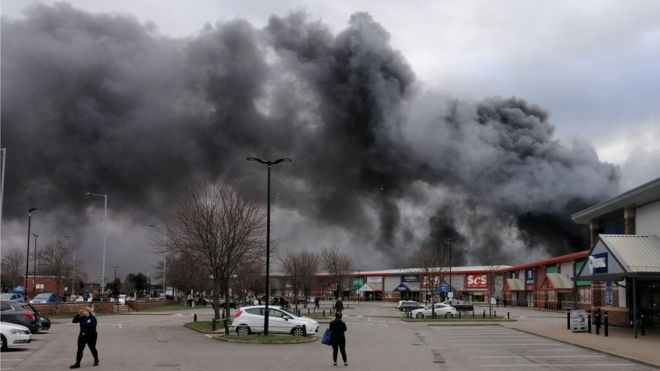 About 140 firefighters are tackling a major fire at an industrial bakery in Wakefield, which is covering the area in thick black smoke.
The blaze at the Speedibake factory, close to Westgate Retail Park, started at about 13:30 GMT.
West Yorkshire Police said there were no reports of any injuries.
People living nearby have been told to shut all doors and windows and the wind is also causing smoke to blow towards the city centre, the force said.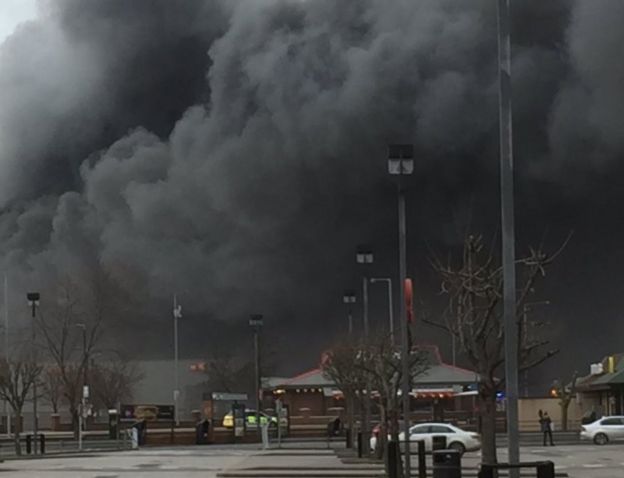 People also reported being evacuated from nearby buildings.
Connor Strachan, 19, from Alverthorpe, and Eleanor Goldthorpe, 17, had planned to watch Jumanji at the Cineworld cinema opposite the bakery, but when they arrived they were told they had to wait in the building.
Mr Strachan said there were nearly 100 people at the cinema, including some from Mecca Bingo directly opposite the bakery.
He said: "We were eventually let out, a lot of the other buildings were evacuated too."
Cineworld Wakefield tweeted at 18:00 GMT to say it was currently closed.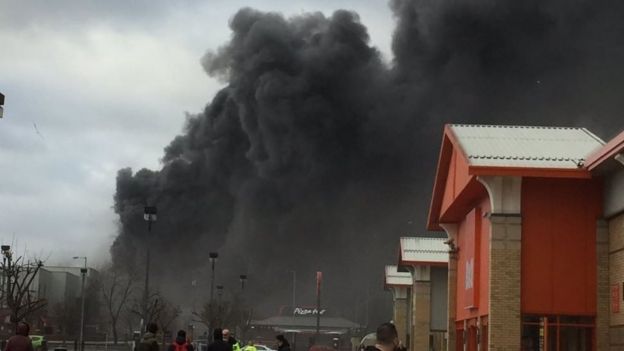 Nicky Harley was going to the B&Q shop on the retail park when the fire broke out.
"As I approached the store I saw police officers in masks telling people to move back," she said.
"There was heavy thick black smoke."
She said she then walked over to a nearby supermarket and saw people with their hands over their mouths saying they felt light headed.
"I also felt faint and light headed," she said.
"My friend is a nurse and she told me there might be a risk of airborne asbestos.
"There is a McDonalds, a bingo hall and a cinema there too, so many people would have been affected."
In a statement, West Yorkshire Fire and Rescue Service said: "The building construction may contain asbestos but at this moment in time it is unconfirmed as to whether it is present in the smoke plume.
"As a precautionary measure we are advising people living in the vicinity to remain indoors and keep windows and a doors closed."
The service said it expected to remain at the scene for the next 24 to 48 hours.