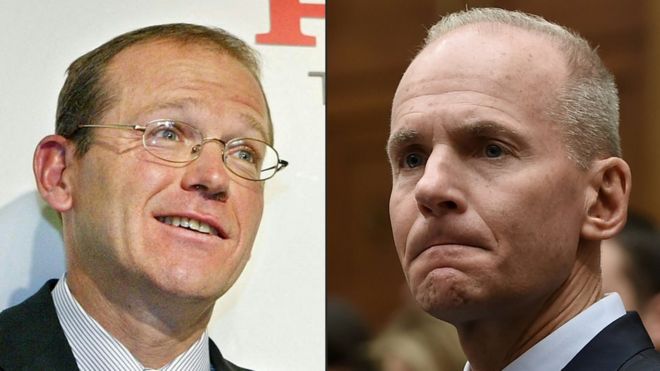 Boeing's new boss has said he is "confident in the future" of the firm, which has been in crisis since two deadly crashes of its 737 Max aircraft.
David Calhoun made the comments as he took the helm of the manufacturer on Monday.
He told staff his "primary focus" will be returning the 737 Max to the skies.
The jet has been grounded globally since March following the crashes, which together killed almost 350 people.
In a message to staff on Monday, Mr Calhoun said it was a "crucial time for Boeing".
"I see greatness in this company, but I also see opportunities to be better," he said.
In a press statement he said: "With the strength of our team, I'm confident in the future of Boeing, including the 737 Max."
Mr Calhoun has served on Boeing's board since 2009. The 62-year-old was previously an executive at private equity firm Blackstone and and industrial giant General Electric.
He replaces Dennis Muilenburg, who the board fired last month, saying the move was necessary to "restore confidence" in the firm.
In a recent regulatory filing, Boeing said Mr Muilenburg will not get severance pay, but he is due to receive $62m (£48m) in compensation and pension benefits.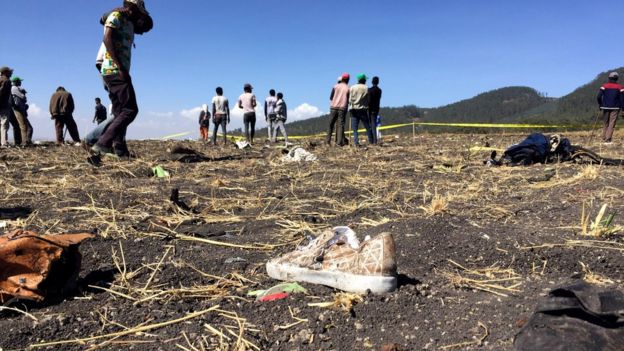 The filing said that Mr Muilenburg received the benefits he was "contractually entitled to" and that no annual bonus was paid.
It also disclosed that Mr Calhoun could receive a bonus of $7m, subject to whether or not he can get the 737 Max flying safely again.

Timeline: Boeing crashes
29 October 2018: A 737 Max 8 operated by Lion Air crashes after leaving Indonesia, killing all 189 people on board
31 January 2019: Boeing reports an order of 5,011 Max planes from 79 customers
10 March 2019: A 737 Max 8 operated by Ethiopian Airlines crashes, killing all 157 people on board
14 March 2019: Boeing grounds entire 737 Max aircraft fleet

The grounding of the plane has already cost Boeing more than $9bn. The economic costs are rippling out to other firms as well.
On Friday, Spirit Aerosystems, a major supplier, said it was cutting 2,800 jobs due to Boeing's planned production halt and expected future layoffs.
Analysts estimate the production halt could shave 0.5% off of US economic growth in the first three months of 2020.
Mr Calhoun said the firm would work with regulators to ensure that they are "satisfied completely with the airplane and our work".
"This must be our primary focus …. We'll get it done, and we'll get it done right," he said.
Boeing is facing multiple investigations following the crashes in Indonesia and Ethiopia.
US lawmakers have accused the firm of building "flying coffins" and engaging in a pattern of "deliberate concealment".
Internal messages, released last week as part of the investigations, raised further questions over the 737 Max's safety, as employees raised doubts about the jet and the firm's commitment to safety.
An employee wrote that the plane was "designed by clowns" in one of the communications.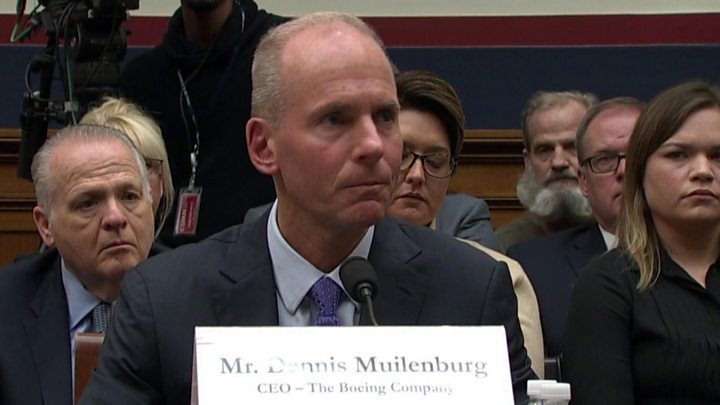 Mr Muilenburg's pay also came under fire in an appearance before US lawmakers last year.
Boeing also faces a fine from US regulators worth $5.4m for "knowingly" installing faulty parts on its 737 Max planes.
The fine announced by the Federal Aviation Administration on Friday is not connected to the software system that investigators have implicated in the crashes.
The planemaker has the right to dispute the fine, which follows a previous $3.9m fine the FAA proposed against the US aerospace giant.