Media captionThe PM said the government would work to prevent an escalation of violence
Boris Johnson has said General Qasem Soleimani, killed by a US drone strike last week, had "the blood of British troops on his hands".
He told the Commons the Iranian general was also responsible for a string of attacks on innocent civilians but called for "urgent de-escalation".
He warned Iran not to repeat "reckless" attacks after ballistic missiles were fired at Iraqi air bases earlier.
Iran's Revolutionary Guard said they were in response to Soleimani's death.
In his first Prime Minister's Questions since Parliament returned from its Christmas break, Mr Johnson said there were no UK casualties "as far as we can tell".
"We, of course, condemn the attack on Iraqi military bases hosting coalition forces," Mr Johnson said.
Labour leader Jeremy Corbyn questioned the legality of the drone strike ordered by US President Donald Trump that killed Soleimani outside Baghdad airport on Friday.
The PM said it was not up the UK to determine whether the strike was legal "since it was not our operation", but added: "I think most reasonable people would accept that the United States has the right to protect its bases and its personnel."
His comments come after Foreign Secretary Dominic Raab rejected the idea that the killing was an act of war.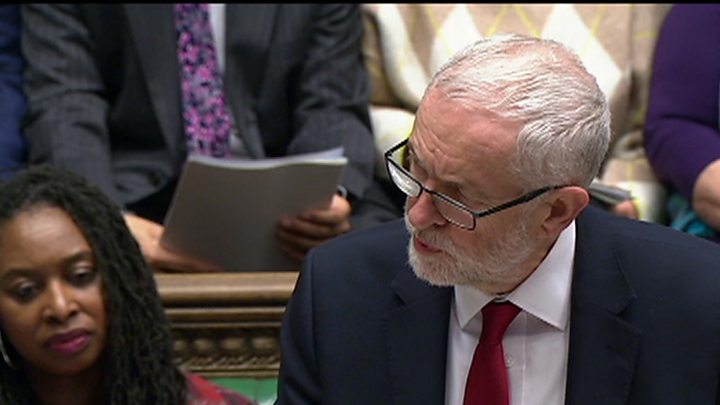 Mr Johnson said Soleimani had supplied "improvised explosive devices to terrorists" which "killed and maimed British troops", adding: "That man had the blood of British troops on his hands."
Mr Corbyn's spokesman later said it was "hard to see" how Soleimani's assassination could be justified as a legal action.
"Since the assassination of senior officials, generals, or ministers of internationally recognised governments is, on the face of it, entirely illegal in international law, that defence – the defence of an imminent threat – has to be made public for there to be any question of there being legality around it," the spokesman told a Westminster briefing.
He added: "No such evidence has been forthcoming and, on the face of it, it's hard to see how that would be the case."