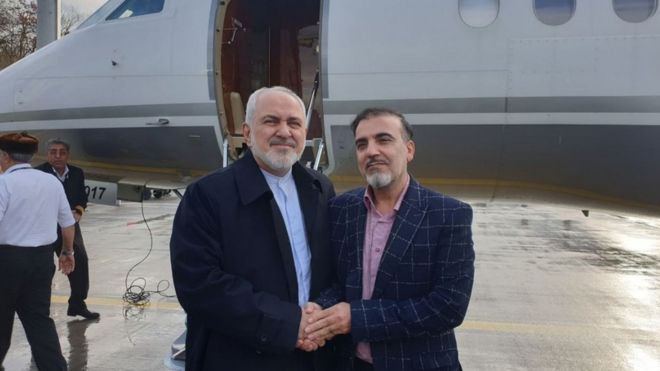 A Chinese-American researcher convicted of spying in Iran has been freed in an apparent exchange for the release of an Iranian scientist held by the US.
Xiyue Wang was arrested in Iran in 2016 for "collaborating with foreign governments".
Massoud Soleimani, a stem cell expert, was arrested at a Chicago airport last year. He was accused violating trade sanctions by trying to export biological material to Iran.
Both deny the charges.
"Glad that Professor Massoud Soleimani and Mr Xiyue Wang will be joining their families shortly," Iranian Foreign Minister Mohammad Javad Zarif tweeted, announcing the exchange.
In a statement, US President Donald Trump said Mr Wang had been "held under the pretence of espionage".
"Freeing Americans held captive is of vital importance to my Administration, and we will continue to work hard to bring home all our citizens wrongfully held captive overseas," the statement said.
Mr Zarif tweeted photos of himself with Mr Soleimani after his release.
Hua Qu, Mr Wang's wife, confirmed her husband had been released.
"Our family is complete once again. Our son Shaofan and I have waited three long years for this day and it's hard to express in words how excited we are to be reunited with Xiyue," she said in a statement.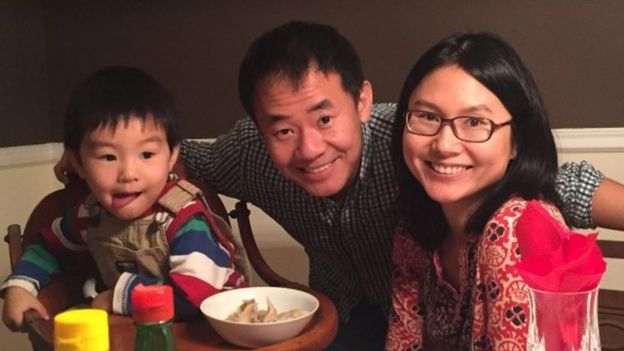 "We are thankful to everyone who helped make this happen."
Princeton University, where Mr Wang was studying as a postgraduate, said in a statement it was "overjoyed" with the news of his release and was looking forward to "welcoming him back to campus".
What were the men accused of?
Mr Wang was arrested in Iran in August 2016 as he was leaving the country.
He had been doing research in Iran for a university dissertation and was accused of seeking to gather "highly confidential articles" for US and British academic institutions. He was sentenced to 10 years in jail for spying.
Mr Soleimani was detained in October 2018 on accusations of attempting to export biological materials to Iran in violation of trade sanctions on the country over its nuclear program.
What is the background?
US-Iran tensions have risen significantly in the last two years.
After President Donald Trump took power, the US pulled out of a 2015 treaty that aimed to limit Tehran's nuclear programme.
Tehran has always insisted its nuclear programme is peaceful, but the US voiced concerns about potential weapon building.
President Trump also reinstated sanctions on Iran, which have led to its currency plummeting and inflation soaring.
Iran has recently been hit by major protests over rising petrol prices, which are partly linked to the US sanctions.