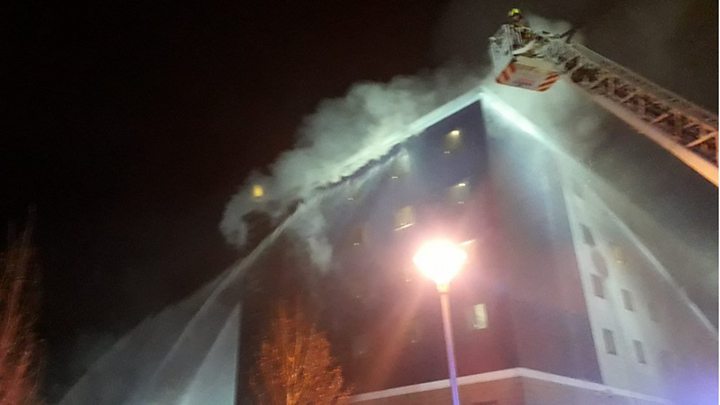 More than 100 firefighters have been tackling a major blaze at a hotel in west London which has forced dozens of guests and staff to be evacuated.
Crews from several fire stations were called to the Travelodge on the High Street, Brentford, at 02:52 GMT.
The fire started in the "bin room" on the ground floor of a neighbouring building and spread to the five-floor hotel.
London Fire Brigade (LFB) said there were no reported injuries.
The fire was brought under control shortly before 07:00 and the cause of the fire is now being investigated by the fire brigade and the Met Police.
Station commander Nathan Hobson said: "Firefighters carried out a systematic search of the hotel and around 160 guests and staff evacuated the building."
He added that a "rest centre" had been set up by the local authority and the conditions had been "challenging".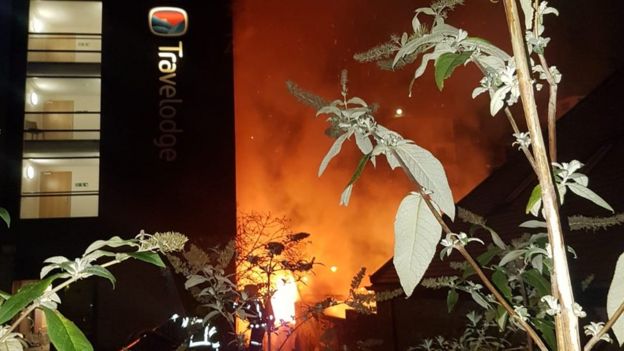 LFB's assistant commissioner Graham Ellis warned people to avoid the Brentford High Street area.
"Fire crews will be damping down pockets of fire and carrying out salvage work throughout the morning," he said.
'Prank'
One guest, who is from Barnsley and only gave his name as Nigel, said he initially thought the alarm was "a hoax".
"We woke up and the fire alarm was going off, we thought it was a prank and maybe a few lads having a bit too much ale – but obviously it wasn't," he said.
"We come down the stairs and come outside and that's where we saw all the bin storage in a blaze.
"Everyone was out really quick and everyone was fine, but we are all a bit tired and cold."
Another guest, Reg Williams, described the aftermath of the evacuation.
He said "some people panicked" and "there was a few small children".
He said one firefighter came round taking names and room numbers, "just to make sure everyone was out".
At the scene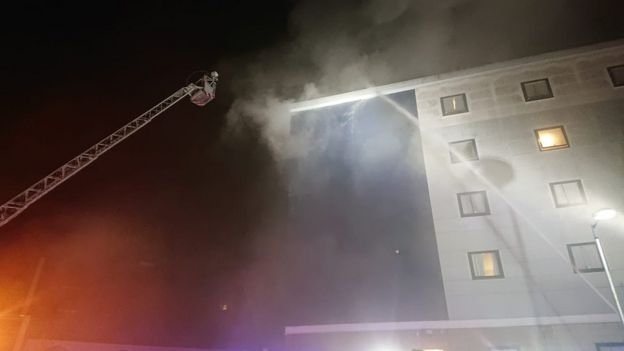 The blaze is out now, although the fire brigade is still hosing down the building.
The hotel is just off Brentford High Street in the middle of a residential area, and consequently many people have been evacuated from their homes.
Fire alarms in neighbouring buildings were going off because the smoke was filling the air.
Many guests emerged from the hotel with only the clothes they had grabbed.
---
Buses were brought in to relocate guests to another Travelodge Hotel in Hounslow, but Mr Williams said there was not enough room for everyone. He said he had been told he would not be allowed back into the hotel until after midday.
In a statement, Travelodge said its guests were "being looked after".
A spokesperson added: "Our team are now making arrangements for their future accommodation and support."