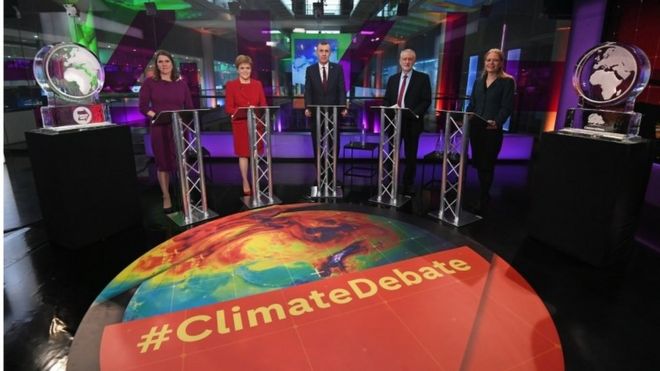 The Conservative Party is embroiled in a row with Channel 4 over the broadcaster's decision to "empty chair" Boris Johnson during its election debate on climate change last night.
Minister Michael Gove offered to take his place, but the broadcaster said the invitation was for leaders only.
The party wrote to Ofcom saying placing an ice sculpture on the PM's podium was a "provocative partisan stunt".
Mr Johnson has defended his absence, saying he can't appear on "everything".
Labour has accused the PM of avoiding media scrutiny, with shadow chancellor John McDonnell saying Mr Johnson was also "running scared" of a one-on-one interview with the BBC's Andrew Neil that all the other party leaders have agreed to.
But Mr Johnson told LBC Radio he had done "plenty of debates" and had told Channel 4 "ages ago" that he would not be attending its event.
The Conservative Party has accused the broadcaster of breaking its duty to be impartial and citing other alleged examples of bias.
In a letter to Ofcom, the party said Channel 4 News staged a "provocative partisan stunt, which would itself constitute making a political opinion in its own right" by substituting the PM with an ice sculpture.
Conservative sources briefed journalists at BuzzFeed News and the Telegraph that "if we are re-elected we will have to review Channel 4's Public Services Broadcasting obligations".
But Mr Johnson appeared to distance himself from such a move, telling LBC he would do all he could to "protect and enshrine" a free press – which he described as "one of the glories of the country".
Earlier, Education Secretary Gavin Williamson said there "no suggestion at all" that Channel 4 was now under threat.
"The government has no plans in terms of changing what Channel 4 does," he told BBC Radio 4's Today.
Former Conservative culture minister Ed Vaizey – who is not standing for re-election as an MP – said it was not "sensible" for political parties to "threaten" broadcasters and he would be "disappointed" if the Conservatives took the matter any further after the election.