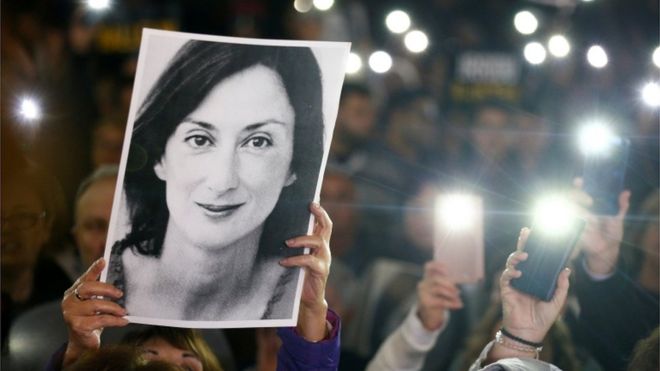 Two years after the murder of Maltese journalist Daphne Caruana Galizia, a series of resignations has rocked the heart of Prime Minister Joseph Muscat's government.
The prime minister's chief aide, Keith Schembri, stepped down amid reports he was being questioned by police.
Tourism Minister Konrad Mizzi then also resigned, while Economy Minister Chris Cardona suspended himself.
The Caruana inquiry intensified when a suspected middleman was pardoned.
Mr Muscat told parliament that the suspect, Melvin Theuma, was being given immunity in return for information about the killing. Maltese reports suggested he had audio recordings linked to the case.
The three men who stepped aside from the government on Tuesday all deny wrongdoing.
Three people have so far been charged with carrying out the murder but police have continued to investigate the October 2017 car bomb attack in the hope of finding out who ordered the killing.
Last week, prominent businessman Yorgen Fenech was arrested in a dramatic raid on his yacht. He too is reported to have requested a pardon in exchange for information. He received hospital treatment after his arrest and has been given police bail.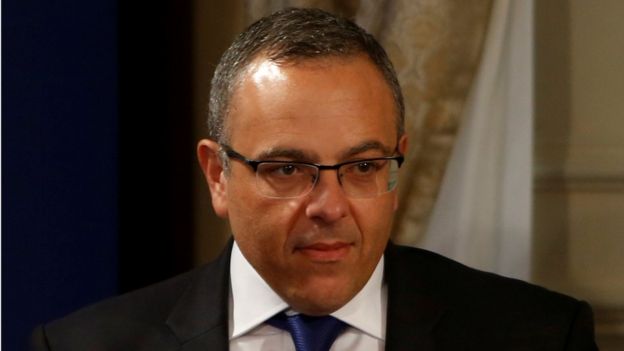 The prime minister, who is himself coming under mounting pressure, said on Tuesday that he would not speculate on whether his former chief of staff, Mr Schembri, was being questioned or what that questioning could be about.
Caruana Galizia, an investigative journalist, was murdered after writing a series of blogs about corruption.
She alleged that a company called 17 Black, owned by Mr Fenech, had links to high-level politicians. In her last blog, Caruana Galizia wrote about Keith Schembri.
Mr Schembri was named in the massive 2016 data leak known as the Panama Papers and Caruana Galizia alleged he and a senior minister, Konrad Mizzi, had benefited from secretive "shell companies".
Commentators pointed out that both members of the government caught up in the Panama Papers leaks had now left office. Mr Mizzi did initially leave the government after the leak but he was later given a new brief in the cabinet.
Although Mr Cardona has not been linked to the leak, he was recently approached by police for "further clarifications" and said he was stepping aside in the national interest.
After Mr Fenech's arrest last week, crowds outside parliament in Valletta demanded Mr Muscat's resignation. There were further protests on Monday evening and again on Tuesday as crowds jeered the prime minister near parliament.
Inside the building, opposition MPs shouted "mafia" at the government and conservative Nationalist party leader Adrian Delia called for a debate on the future of Mr Muscat as prime minister.
According to Maltese reports, the prime minister said earlier he had been given unanimous support in a meeting of his parliamentary group.
Malta's business community said the unfolding inquiry had revealed the extent of damage caused to the country.
In a statement, the chamber of commerce said it had become clear "the extent to which criminal activity had infiltrated the circles of power, and operated unperturbed for years".